20 Dec 2021
Progress on ATHENA facility implementation
ALFRED infrastructure, foreseen to include 6 experimental installations (ATHENA, ChemLab, HELENA2, ELF, HandsOn, Meltin'Pot) and the ALFRED (Advanced Lead-cooled Fast Reactor European Demonstrator) reactor, was designed as a Research Infrastructure of global relevance on the HLM and LFR technology.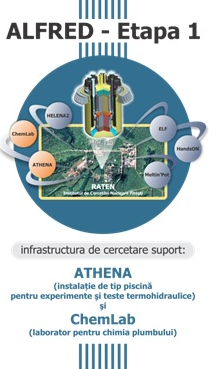 The experimental support installations, designed for technological research, testing, verification, validation and demonstration of knowledge of associated phenomenology, as well as qualification of materials, components and equipment for ALFRED, are intended to support ALFRED implementation.
The project ALFRED - Stage 1, is funded from structural funds under the Operational Program Competitiveness, and aims to implement two important elements of the planned infrastructure: ATHENA (pool type installation for experiments and thermohydraulic tests) and ChemLab (laboratory for lead chemistry).
An international consortium formed by Ansaldo Nucleare (Italy) and Reinvent Energy (Romania) has won the contract (approximately 20 M€ value) for the design, procurement, installation and commissioning of the ATHENA experimental facility. The consortium is supported by Italy's National Agency for New Technologies, Energy & the Environment (ENEA) and Servizi di Ricerche e Sviluppo srl (SRS) for the conceptual and detailed design of the technological part, as well as by Romania's Institute for Studies & Power Engineering (ISPE) and Somet for the design of civil works and the installation activities.
The Advanced Thermo-Hydraulics Experiment for Nuclear Application (ATHENA) facility will be built at Mioveni platform, on the RATEN-ICN research center premises. ATHENA is a multifunctional installation, a large electrically heated lead pool, housing 880t of liquid lead in a main vessel, measuring 3m in diameter by 10m in height. The installation will accommodate scale components and equipment for testing and demonstration of lead fast reactor (LFR) technology.
Testing and qualification will cover not only normal operation – including the assessment of components/systems behavior in a pool configuration, but also anticipated accidental conditions (e.g., steam generator tube rupture), thereby providing conclusive elements and evidences for the licensing application. 
ATHENA will be the largest facility in Europe for research on LFR technology.
The project involves the construction of an electrical core-based simulator, a main pump and a heat exchanger similar to the ALFRED system configuration. The facility will be equipped with a water-cooling circuit to ensure representative conditions on the secondary side of the heat exchanger. 
After signing the Contract with RATEN on October 2021, the Kick-Off Meeting of the ALFRED-Etapa 1 Project took place at the RATEN headquarter, in Mioveni, welcoming representatives of the international consortium that has undertaken the design, procurement, installation and commissioning of the ATHENA experimental facility.
Together with delegates from Ansaldo Nucleare S.p.A., Reinvent Energy S.R.L. and ISPE, the management teams of RATEN, RATEN ICN and the ALFRED Project participated in discussions regarding the communication strategy for this contract, as well as the activities planned for the near future.