Chornobyl NPP Received a License to Operate Confinement and Shelter System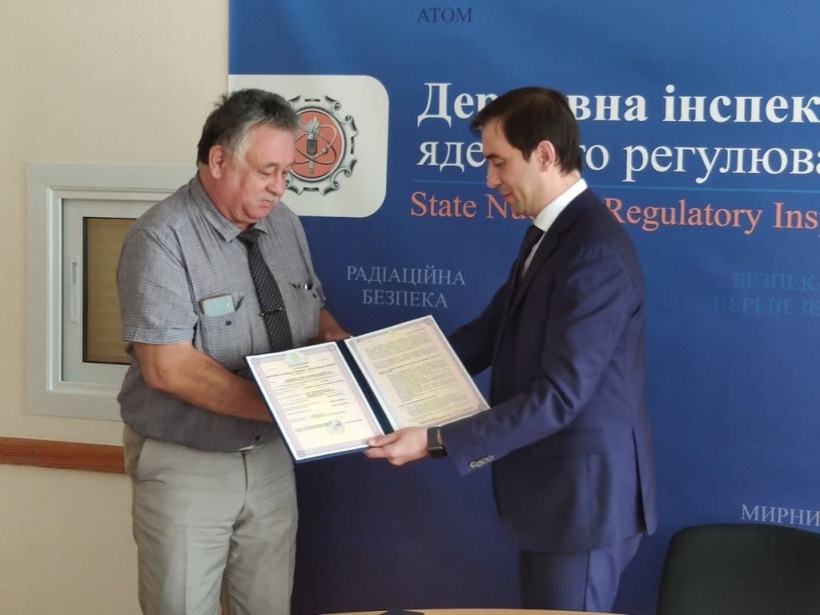 The license presentation ceremony involved the management of the Ministry of Environmental Protection and Natural Resources of Ukraine, State Agency of Ukraine for Exclusion Zone Management, State Nuclear Regulatory Inspectorate of Ukraine, and Chornobyl NPP and representatives of the European Bank for Reconstruction and Development, European Commission, and State Scientific and Technical Center for Nuclear and Radiation Safety.
A significant work scope preceded this event, in particular, elimination of shortcomings identified by the Chornobyl NPP in the trial and industrial operation of the Confinement and implementation of the recommendations specified in the inspection certificate of the State Nuclear Regulatory Inspectorate of Ukraine, etc. In addition, the license could be granted after a series of documents had passed state nuclear and radiation safety review, the main of them being the Safety Analysis Report for Operation of the Confinement and Shelter System, and after the inspection conducted to verify the documents for completeness and accuracy and the Chornobyl NPP for the capability to perform the declared activity.
The next step towards the Shelter transformation into an environmentally safe system, according to the acting Director General of the Chornobyl NPP Valeriy Seida, will be to develop a design for the dismantling of Shelter unstable structures and, in fact, actual dismantling activities. Consequently, Ukrainian experts are about to perform unique activity that no one has done so far.
It should be recalled that the Shelter is Chornobyl NPP Unit 4 destroyed by the accident, which lost all its functional properties. First-priority measures have been taken at the Shelter to mitigate the accident consequences and activities to ensure its nuclear and radiation safety are still ongoing.
The Confinement was constructed under an international project and was financed from the Chornobyl Shelter Fund, with contributors from 45 countries, including the European Commission. The European Bank for Reconstruction and Development was the Fund Administrator.