22 Jun 2021
Stepping forward for ALFRED infrastructure
In the last years, significant efforts were done to bring the LFR technology to its current readiness level. However, some aspects of the technology are still uncovered, mostly due to the limited scope of the available facilities (notably, their small scale), and this has a large impact on the need to elaborate and perform a Safety Demonstration Programme, for the licensing of the ALFRED reactor.
Taking into consideration these aspects, FALCON Consortium partners has decided that prior to the realization of ALFRED it is necessary to create a support research infrastructure consisting of a number of experimental installations for technological research, testing, verification, validation and demonstration of knowledge of associated phenomenology, as well as qualification of materials, components and equipment for ALFRED.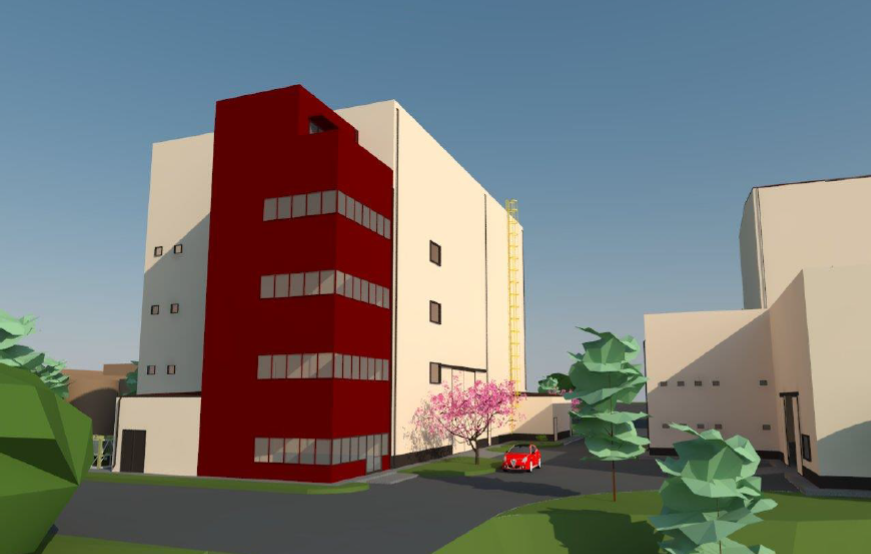 ALFRED infrastructure was designed as a Research Infrastructure of global relevance on the HLM and LFR technology. It is foreseen to include 6 experimental installations (ATHENA, ChemLab, HELENA2, ELF, HandsOn, Meltin'Pot) and the ALFRED demonstration reactor. The experimental installations are dedicated to open aspects of LFR technology, testing and qualifying ALFRED components, demonstrating the control of all phenomena in order to go through the authorization process, as well as validating and verifying the calculation tools / methodologies.
Since the facilities will work on the basis of a well-crafted technical-scientific and demonstration program, aiming at the optimal use of the facilities by synergistic correlation of other activities performed at other laboratories and sustainability of operation (through international integration), the ALFRED infrastructure is considered an opportunity to improve the collaboration (attracting and engaging) with other European and International organizations involved in the development of the technology.
The project "ALFRED - Stage 1, support research infrastructure: ATHENA (pool type installation for experiments and thermohydraulic tests) and ChemLab (laboratory for lead chemistry)" will be funded by structural funds under the Operational Program Competitiveness, and aims to implement two important elements of the planned infrastructure, these being a priority for solving the mentioned issues through 1: 1 scale testing experiments and by producing experimental data.
The acquisition of the design services and the execution of the works for the buildings and the supply of the Athena + Chemlab experimental installations is in progress, execution offer being under evaluation. After signatures, the implementation contract will last 32 months.
1    The infrastructure will manifest its potential in two directions:
supporting the ALFRED implementation, by filling all the present gaps to its design and licensing process;
providing services to research, industry and safety authorities to sustain the continuous enhancement of safety and sustainability for future LFRs.
The Advanced Thermo-Hydraulics Experiment for Nuclear Application (ATHENA) is a large electrically heated lead pool where components (steam generator, primary pumps, fuel assembly, control rods) and systems can be tested at large- to full-scale, and qualified in representative conditions. Testing and qualification will cover not only normal operation – including the assessment of components/systems behavior in a pool configuration, but also anticipated accidental conditions (e.g., steam generator tube rupture), thereby providing conclusive elements and proves for the licensing application.
The facility aims to investigate a large variety of aspects that encompasses:
R&D needs related to the lead technology (i.e. coolant chemistry control in large pool);
Simulation of integral tests representative of normal operation (pool TH, SG functionality and performances, PP functionality and performances), allowing TH characterization of a single 1:1 ALFRED FA;
Simulation of peculiar transient integral tests relevant to safety assessment and economic operation in representative scale (i.e. loss of electrical power, margin to freezing scenarios);
Testing full scale single components (i.e. steam generator, primary pumps, fuel assembly)
Providing large experimental database suitable for model development and code verification and validation with the goal to set-up validated numerical tools suitable to support the LFR design and its licensing phase.
Lead Chemistry Laboratory (ChemLab) is an advanced laboratory for heavy liquid metal chemistry, conceived for two key purposes:
studies of materials compatibility with HLMs, ranging from initial screening of candidates to long-term exposure tests, in a multitude of temperature and environmental conditions representing potentially any LFR design;
development, qualification and certification of Oxygen measurement and control components and systems, covering the broad range of envisioned Oxygen control conditions sought in ALFRED and other LFR designs.
CHEMLAB will consist of:
an experimental section dedicated to experimental tests on oxygen control, solubility studies of chemical elements and corrosion of structural materials in liquid lead,
a metallographic laboratory for the characterization of structural materials in liquid lead and the study of the amount of metals released in liquid lead.
As lead chemistry is one of the key elements for the safe operation of ALFRED, the possibility to perform relevant experiments will significantly reduce the associated project risks by supporting the informed design and qualification of the coolant chemistry and control system of ALFRED.